Author and Corporate Speaker, Vishwas Mudagal was a part of a panel discussion at the Google Mobile Academy on the 1st of September in Delhi. The event was hosted by Google to discuss the advantages of new age mobile web technology and to exchange views on the future of mobile web in the Indian Market. Vishwas Mudagal spoke as a technology thought leader at the event and elaborated on the state of Mobile Web in India.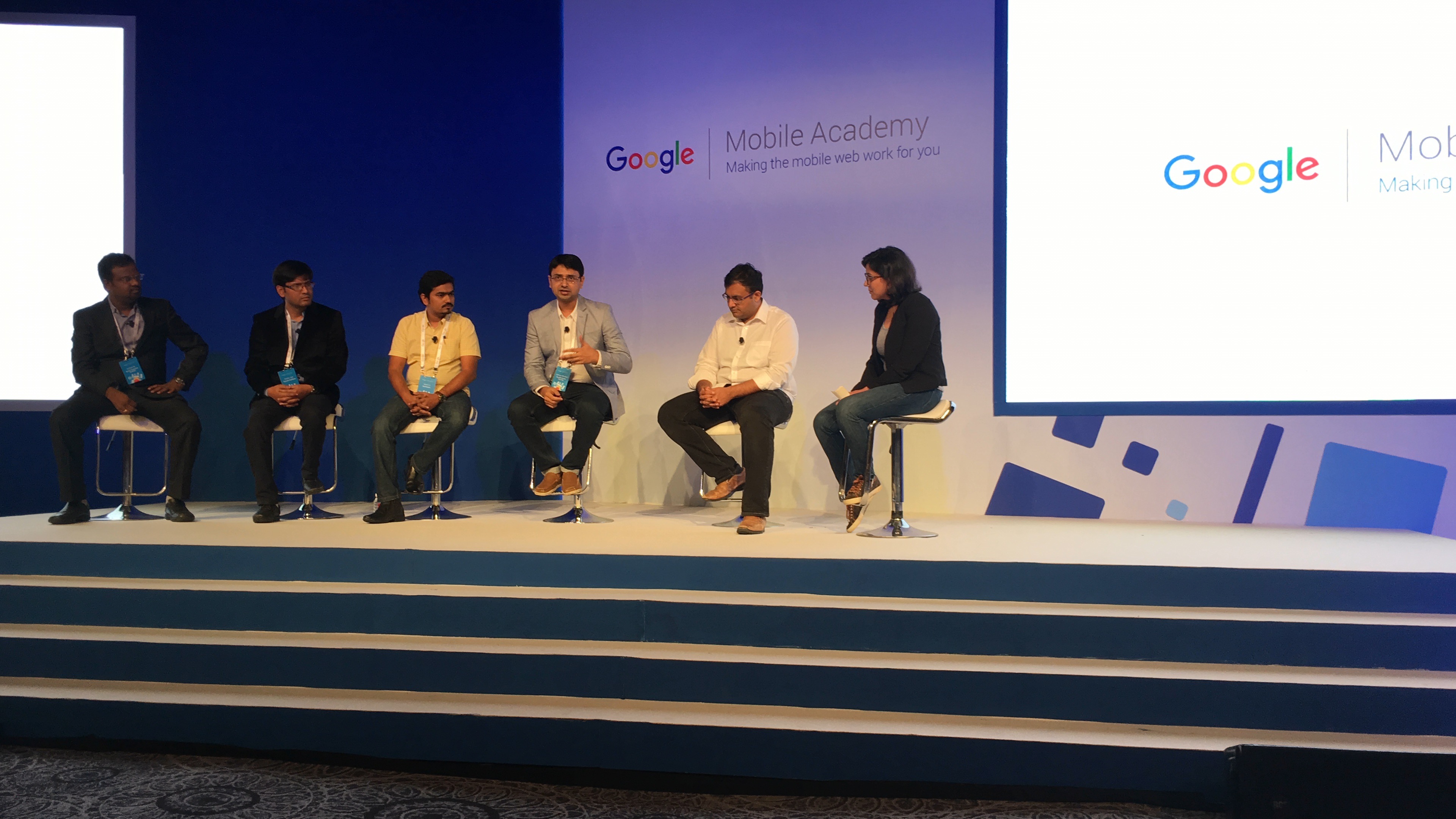 Read more to know what Vishwas had to say:
State of the Mobile Web in India: do you think the current Mobile web and app experiences are doing justice to the customer's expectations?
Vishwas: To be honest, it's not meeting the expectations if you look at more mature markets like the US and Europe. However, mobile apps are better compared to Mobile web currently. Mobile web currently lacks several key ingredients that will let users access the content and features seamlessly. Few aspects are – 1. slow loading 2. poor UX/UI and navigation 3. poor networks, bandwidth. 4. low-quality devices with majority of users. 5. lack of offline access , etc.
What are some of the most common mistakes you've seen people in the industry make with respect to their mobile web strategy? What KPI's do you feel a company should define to measure the success of a mobile web product.
Vishwas: The most common issue we face is the lack of understanding how and why mobile web is critical to the strategy and business growth. Mobile web hasn't got the due attention it needs and most clients don't have a special focus for it. Only after Google has been giving preference to responsive websites, businesses have moved towards responsive websites. This is a positive development. But still there is special emphasis on key parameters like –
Page speed / loading time
Ease of navigation
Push notification
offline availability
conversion ratio – to get user do a transaction or sign up, etc.
reduce bounce rate
increase time spent on the site
measuring increase in business transaction through mobile
percentage of business / traffic / users coming from mobile
We need the right mandate, financing and manpower to get the mobile web strategy right. This lack of investment is another issue. It's not a one time activity, it needs us to continuously monitor and optimise the way our mobile web product works.
How important is speed in a client's m web strategy / asset ?
Vishwas: Speed is the most important criteria. Especially if the website is transactional in nature, like a ticket booking or e-commerce site. People are not patient enough to deal with slow loading.
With the availability of AMP + PWA combination, now we have plenty of ammunition to address this concern. This was not the case before.
It's common knowledge that agencies like you all are often operating under various constraints, imposed by clients. Have you ever found any such constraint to affect the quality of the mobile web element of the product you're building out?
Vishwas: I have tried to answer some of the aspects previously with respect to a special mandate or investment available for the mobile web. Budgets, time and resources are a major constraint with many clients.
Also they don't understand why they need to spend money on good UX/UI. Because the talent in UX/UI is expensive, agencies struggle to allocate expensive resources and end up delivering not-so-great UX/UI. This will ultimately affect the brand, user engagement, KPIs, and even the business. Just to save little money, business end up making huge losses but they never realise it. Because of this, it is important for the CMOs and CTOs to ensure the top management in the company understands the seriousness of mobile web.
I'd like to focus on one particular topic that can make it a lot easier to develop a responsive experience: design. Do you have any specific recommendations to designers and product managers on that front?
Vishwas: Design is make or break for the mobile web. We have to invest the right amount of time, money and talent into this, else the whole strategy fails.
When it comes to mobile, the expectations are quite high from the general users, because mobile web is competing with the native mobile apps. One recommendation is to bridge the gap between the two with similar navigation, keeping native OS in mind, making it super-responsive which feels as though the app was tailor made for that device, bring in certain personalised content, creating a great look-n-feel, etc.
Another aspect is to understand who are the primary, secondary and tertiary audience. The design should be always 'user-centric,' hence understanding who is your user is the key. Then you build the user journeys around the business objectives your web product is supposed to fullfil. Look at creating the right information architecture and information hierarchy.
Because the real estate on the devices is too small, we need to know which data or action is primary, and what is secondary. etc. (I can always discuss the Lean UX strategy of getting this right)
I know the dynamic between an agency and a client varies significantly from project to project. Do you have any suggestions for potential clients on how to get the most out of their engagement with you?
Vishwas: Effective requirement gathering, expectation setting, best practices in terms of Lean UX, Agile software development (iterative process), clear mandate from client, etc. are very critical. We have seen that when clients are not clear on what they want, the project becomes very expensive and time consuming. So its important for client to do their homework, in terms of requirements, product positioning, feature set, roadmap, go to market strategy. This clarity will go a long way.
Secondly, the right amount of onsite and onshore resources are critical. Distance between a client and vendor team might create problem in KT and project management. So, for critical phases, sitting together helps a lot.
Final words: are you bullish on the mobile web?
Vishwas: Absolutely, it's a no brainer that mobile web is the logical thing to do and it will evolve in terms of technology support (now we have PWA, responsive web, AMP, etc.) to make it really awesome for almost all types of businesses and portals.
Facebook Comments