Here's a revival plan for Congress… I know everyone is talking about #CongressMuktBharath and the lack of strategy / leadership in Congress to fight back. If you look at what Modi did, he focused on developing Gujarat and creating a blueprint / development model to showcase how it could be taken to the India level. He had a clear strategy, great marketing plan and something to show that he has done the real work/progress.
Congress has nothing going for it. No proof of growth like BJP does, no leadership, no great orators like Narendra Modi, no strategists like Amit Shah, internal politics eating them away,  Rahul Gandhi becoming more popular in jokes than in anything else, Sonia Gandhi only comes in news to accept defeats.. so nothing going for them… yesterday everyone started sharing this pic of Congress Mukth Bharat after the#Maharashtra and #Haryana election results, and Congress has brought it upon itself, they can't blame anyone. No one can fool the public now (even if Modi doesn't deliver, he will be removed in the next election…)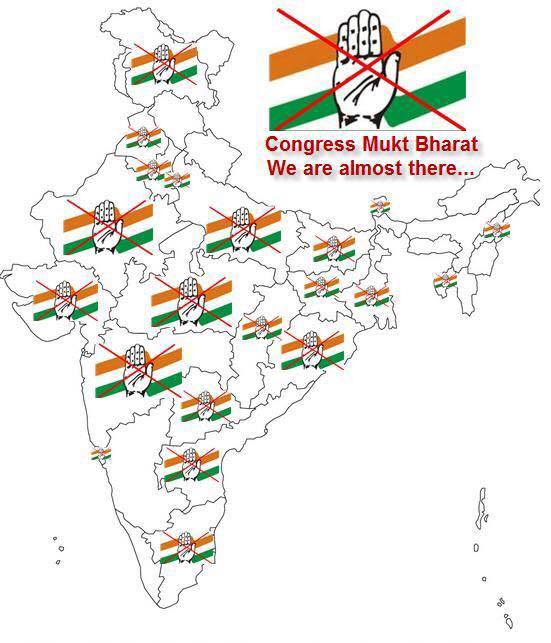 So let's look at the India map, what does Congress have now? It has Karnataka, a rich state that is like a hen that lays golden eggs. If the Congress can show great progress by taking this state to the next level, they can prove it to everyone that they can do some serious stuff on the ground. Karnataka is already the biggest exporter of software / IT / ITES, and sometime back it had everything going for it till bad politics ruined the growth of the state… So can Congress take up this challenge and showcase great work in Karnataka to the people of India? Or will they stick to their old plans of defaming others instead of focusing on real development? What do you guys think?
Facebook Comments